Remember the wedding invitation I showed before? Well, it was real. We got invited to the wedding in a very traditional family that is living in the Old Dhaka.
Bangladeshi wedding consists of at least 3 celebrations, but there can be more. The logic is still not very clear to me, but I'll just tell/show you what I saw.
Bride and groom have separate celebrations and then also common ceremony.  We were from the groom's side and got invited to 3 events (only 2 of which I could attend).
This first celebration was a kind of chilled one, where women could wear shalwar kazeer (not necessarely sarees) and there was a concert! Everything started very late though and by late I mean that the concert only started around 10 pm.
We didn't get to see the bride that day, it was only the groom and his family.
First we were getting ready — asked my local colleague and housekeeper to help us with sarees (I also borrowed the whole outfit from the colleague)
It was pretty easy to spot the wedding location
Since we got there pretty 'early' (around 8 pm), we were just hanging out meeting the family and taking pictures with everybody
And wondering around the house where we saw some of the presents being prepared for the bride (sarees, bangles, shoes etc.)
And got a chance to see how these locals live
Many people were there after 9 pm, but the decoration guys weren't in a hurry at all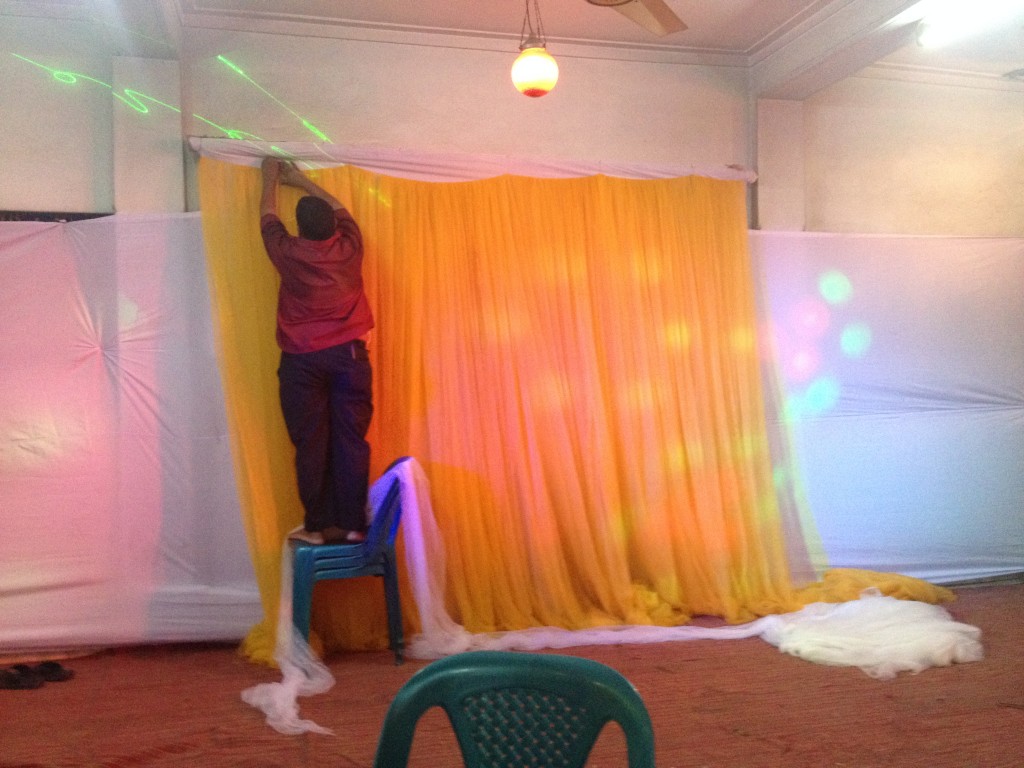 People waiting…
Notice that some of the outfits are made of the same fabric. That's what they do — some friends/family members decide on the fabric for every party and they get their dresses/shalwar kameezes/sarees made of it but in different designs, of course!
At some point the show finally started!!
Around 11.30 pm we had to leave, but the concert was still going on and people didn't start eating yet! We checked out the food though. Notice: everything was sent my the bride's family
To be continued…