There are two main political parties in Bangladesh — Awami League and Bangladesh Nationalist Party.
Awami League is the country's current governing party and its leader is Sheikh Hasina, the daughter of the first president of Bangladesh during the Bangladesh Liberation war (1971) and a prime-minister later in the independent Bangladesh.
Bangladesh Nationalist Party, or BNP, has another lady as a leader, Khaleda Zia to be precise. She is the widow of one of a Bangladeshi military commander and a president as well.
Both parties have been governing interchangeably since 1971 and there has always been pressure over the opposition party when another party was in power. Since 2013 though it became a bit too aggressive. Swami League is putting restrictions in the government for the opposition and BNP in response announces so called hartals, kind of a strike. So instead of working, supporters of the opposition party (or those who are paid to be them?) crush busses, kill people and do general harm to those not participating in hartals.
Next week there is a local election in Dhaka (and we will have a day off because of it, woo-hoo!) and there are different campaigns on the streets. For example, rickshaws are riding around with loudspeakers or they hang garlands of flyers. This is one of the streets, for example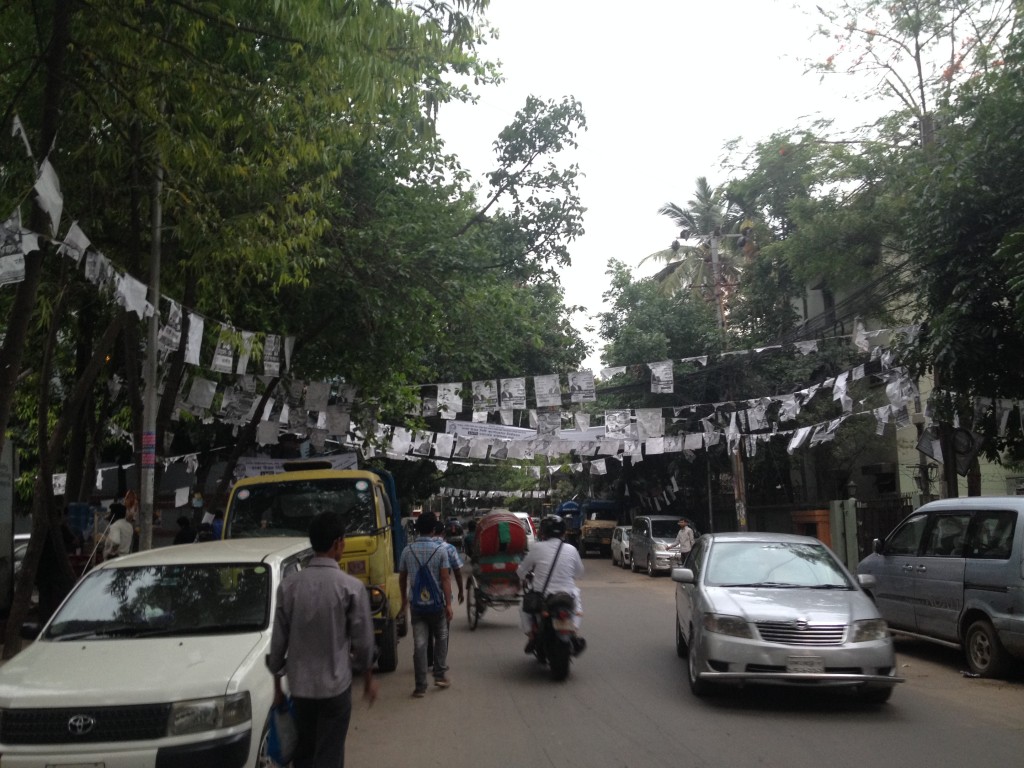 It happened as well that the opposition leader lives on my street, basically almost across the street.
This is Khaleda's house: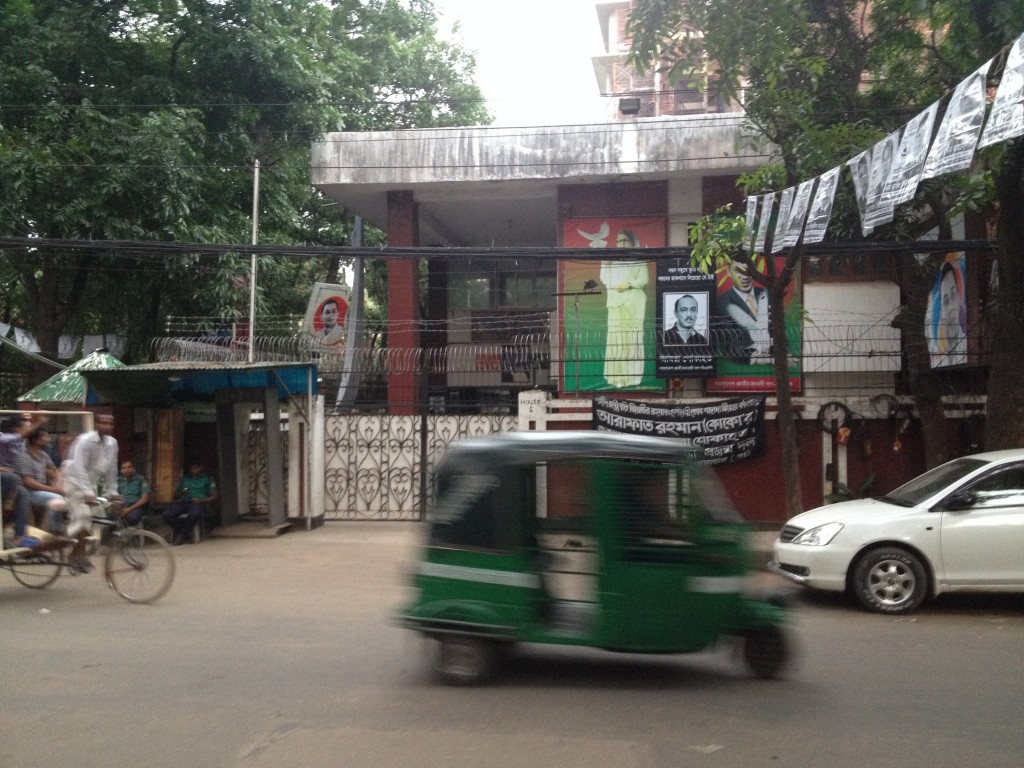 Usually there are many photographers and cameramen in front of it.
The other day I was checking out the local shops with a friend of mine and we witnessed a procession of big cars with many people running around it. And guess who was it campaigning around the city for the candidate of its party (I guess)? Khaleda Zia.
After this video we followed the car and waved at her. And guess what? She waved back!
Bonus. Last year's Hasina-Khaleda conversation on the phone. Here is a preamble, conversation between the PM's ADC and BNP chairperson's special assistant Shamsur Rahman Shimul Biswas:
PM ADC: Greetings.
Shimul: Yes, Mr ADC.
PM ADC: Shimul da, you didn't call me.
Shimul: We were waiting for you. Madam has been waiting since 6.
PM ADC: No. You people were supposed to call.
Shimul: No, I don't remember telling you anything to that effect. You'll call us at 6. I have made her [Khaleda] waiting for the last eight hours.
PM ADC: I didn't tell you that I would call you. Because we were expecting that you would call us.
Shimul: No, you are saying the opposite. We never talked about that. I'm telling madam.
PM ADC: I never said the PM would call, either. I said…
Shimul: You will arrange the conversation over phone. This your duty.
PM ADC:  It is also your duty to arrange the conversation over phone.
Shimul: Madam is still waiting.
PM ADC: We are waiting for your call.
Shimul: Madam is waiting. Give the phone to the PM now. I am handing it over to madam.
PM ADC: Are you people there?
Shimul: Yes, madam is here.
PM ADC: Okay, please wait. – See more at: http://www.dhakatribune.com/politics/2013/oct/29/partial-transcript-hasina-khaleda-conversation#sthash.DtKe2OXa.dpuf